OMG it's been 2 bloody months since i haven't written even a line for you, shame on me, and I know these are not excuses, but I had to study, and now i'm in 2 dance groups and my traning is started too, so I've been really busy... But now, I want to come back and take care of my blog and of course my dear readers ♥
Ehrm, so..
Hi bunnies! ♥
I want to post some pictures and want-to-do stuff now, just to show something from my past 2 months when I haven't been posting X.X Let's get started!
Honestly I had no time for doing pretty gyaru make-ups and stuff, and when I did, I was in hurry so I forgot to take pcitures, but.. I want to show this one, because I think it's a bit different from my previous makeup looks and also looks cuter and more natural:
Tried to look like a 'new-wave' gyaru, since it's fashionable even in gyaru subculture to look more natural. I don't know, i like it on myself, but I prefer stronger make up looks, with thick fake lashes and black/ dark brown eyeshadows and/or eyelines. Oh, yes, and these are my new pair of circle lenses. They're brown and glittery, and really really comfortable to wear!
Also did this in the past, and I loved this makeup look! I wanted to be like a princess, I don't know if I reached my goal or not in your opinion, but I think it's pretty. I love the gold glitter eyeliner that I bought... I should buy another one, haha. /Without lenses and fake lashes/
Aaaaand, as some of you know, I'm in love with Shingeki no Kyojin, and I also want to do a scouting legion uniform-cosplay, and I finally ordered the cloak of the team. It's a funny story, because I've been searching for months to find the perfect material for the cloak, and I was going to do it by myself, I even bought the textile paints to make the logo, but those ones, that I liked was very expensive (like 9000HUF/meter {which is about 45$}), and the cheaper ones were not the right type, so I decided to buy it from ebay. It was a good decision! It's perfect, but it's one or two sizes bigger than me (yes, i know it's strange, it's just a cloak), because the shoulders are much wider than mines, so it's like i'm a swimmer or something, lol. Anyway, I'm happy with my treasure ♥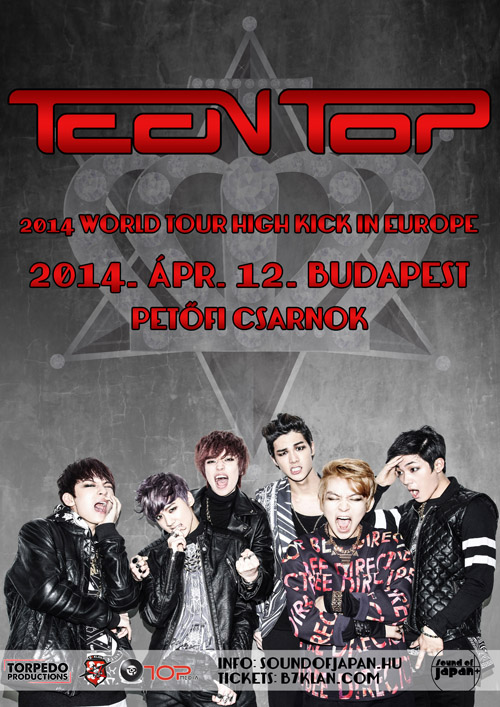 I don't know If you heard abot this, or not, but TeenTop is on a World Tour, and our little country get a place on the list too. As a big kpop fan, i obviously was there, and it was fantastic (!!!!444!!44!), even i'm not an Angel (their fandom name:)). It was sooo interesting and exciting to see a kpop show in real, how they performed the choreographies was so professional, and it was a pleasure to hear their voices in real life. I didn't liked the ballads, they were boring in my opinion, but it's just me, I neither like the ballad songs of my favorite performers, so it's not surprising. But, after all, THANK YOU SO MUCH TEENTOP, FOR COMING TO OUR COUNTRY! ♥ ♥ I hope the guys also enjoyed their time here. They came back twice to the stage, and they were speaking hungarian a lot, it was so lovely. They must like us. They must! * mumbling voodoo spells to force other kpop bands to come here *
This was my look for the concert
That's all for today, and be sure you check my blog more often from now on, because i'm coming back! ;3 ♥